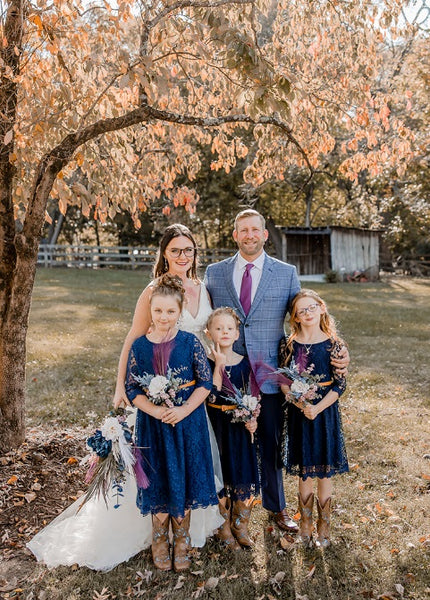 Thrifty Gifter /THriftē giftər/ (N) : One who crafts, up-cycles, and creatively re-purposes.
I never envisioned myself as a small business owner. I grew up thinking I would go into education, but ultimately graduated with a degree in sociology and psychology. A few years later, in 2014, my daughter was born and I dove head-first into Mommyhood and found that all I really wanted to do was to soak up every moment of her youth. So, I walked into work one day and gave my notice. And, just like that, a new chapter began.
In 2017, I opened a storefront in Little Washington, North Carolina! The journey was a whirlwind! With the love and support of amazing family & friends, t.t.g blossomed into more than we ever dreamed and I loved every moment of that chapter!
In 2020, my husband, Steve, and I decided to begin a new adventure as a blended family. Together, we have a home just outside of the gorgeous foothills of Western North Carolina where we raise our three daughters. These are the days; they are everything our hearts could have ever hoped for.
I am beyond blessed to have the opportunity to spend my days with the girls while crafting, creating, and growing my little business.
I still haven't "grown up" -- maybe I never will. Hopefully, I will "grow" all of my days; change with seasons, and always reach a little higher. Our hands are full, but so are our hearts!
• Kind words •
Love it! My husband and I used keys as a theme in our wedding. So this was a prefect momento for our first Christmas married.

Alison Simmons
Absolutely love this piece and this shop! Great quality, friendly service and fast shipping. 💙

Morgan Davis
Happy with the process and that it was made in N.C. We will continue to shop here for sure. Thanks!

Christopher
My hubs and I purchased our first home this year and I can't wait to see the look on his face Christmas morning when he opens our latest addition to our tree. PERFECT ITEM!!!!

Kristin Jenkins
These turned out great! They are a beautiful addition to our playroom. Thank you so much for getting them off to us so quickly! ❤️

Michelle Herda
Above expectations, took what i asked for and made it better then what i was thinking. Thank you sooo much!!!

Chelsea
Perfect housewarming gift!! Excellent quality and arrived very timely. The ornament is something that our friends can keep and it will hopefully bring fond memories of the friends that gave it to them.

Freida Schipman