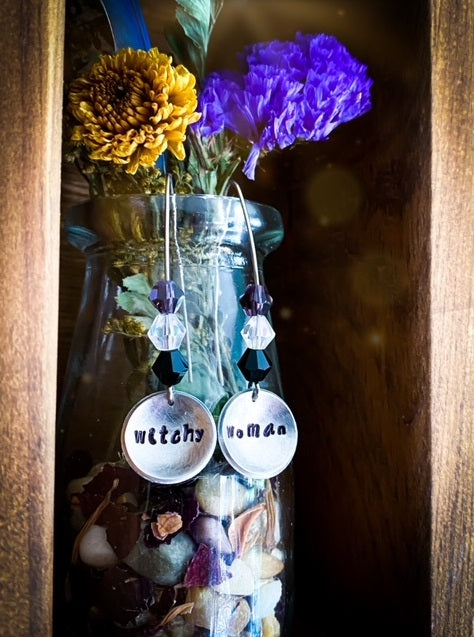 Witchy Woman - Earrings
Regular price $16.00 Sale
"There are some things I know for certain: always throw spilled salt over your left shoulder, keep rosemary by your garden gate, plant lavender for luck, and fall in love whenever you can."     ~Practical Magic
These domed V-shaped earrings are 1.3" long. The disc is hand-stamped aluminum measuring a dainty 1/2" wide. These earrings feature one of each, a dark lilac, crystal, and onyx bicone stone.

Your order will arrive ready to gift . Aluminum is hypoallergenic and will not tarnish.
For matching bracelet: https://thethriftygifter.com/collections/jlj-collection/products/witchy-woman-bracelet-and-or-earrings

♥ Please Note: The beauty of hand-stamped work is that each piece is 100% original. Each and every letter is individually hand-stamped, creating a crafted piece that is just for you. That being so, letter layout and designs may vary slightly. I put my heART into every piece and hope that you love it!